Los Angeles Drunk Driving Accident Lawyer
Driving while intoxicated (DWI) or driving under the influence (DUI) of drugs and alcohol is a serious offense and a dangerous crime. Drunk drivers kill nearly 30 people per day in the United States and are responsible for a third of all traffic-related fatalities. A driver who becomes intoxicated and chooses to drive puts every other driver and pedestrian on the road at risk of injury or death, especially in a city with traffic as congested as Los Angeles. Drunk driving car accidents can be considered negligent and drunk drivers at fault are liable for the damages they cause.
If you or a loved one have suffered serious or catastrophic injuries due to a drunk driving car accident, get the legal advice you'll want from the most qualified Los Angeles drunk driving accident lawyers in the state.
Call (213) 271-9318
For a Free Consultation
WHY HIRE THE REEVES LAW GROUP FOR YOUR PERSONAL INJURY CLAIM?
$250,000,000 Recovered for Our Clients
Newsweek's 10 Best Personal Injury Attorneys
No Fee Guarantee – No Fees Unless We Win
The Reeves Law Group has been helping victims of drunk driving accidents in Los Angeles and throughout Southern California for over 35 years. Our personal injury law firm has recovered over $250,000,000 in verdicts and settlements for our clients. Our law firm specializes in accident cases involving serious and catastrophic injuries.
While the criminal court system can punish a drunk driver who caused the accident, it does nothing to compensate the victims of a DUI accident caused by a drunk driver. However, in a civil case under California law, drunk drivers involved in an accident that caused any injuries to other drivers or pedestrians can face additional liabilities to compensate for the injured victim's medical bills and loss of income. In a personal injury lawsuit, victims injured because of a drunk driver's negligence may also seek punitive damages against the at-fault driver.
Victims of an accident caused by a drunk driver may have the legal recourse to pursue a drunk driving lawsuit against an impaired driver. Give our law firm a call to speak with a qualified Los Angeles drunk driving accident lawyer. Our experienced lawyers will vigorously pursue maximum compensation for your serious injuries. The drunk driving accident lawyers at our law firm have recovered damages for numerous drunk driving crash victims. Contact our legal team today or Call (213) 271-9318 for a free consultation.
A Review of The Reeves Law Group, Los Angeles Drunk Driving Accident Attorneys
A drunk driver ran a red light and wrecked my car. I'm a student at UCSD and really did not have a lot of time to deal with this. My lawyer made the whole process really easy for me. He talked to me to make sure I was getting good medical treatment, he helped me get paid for the damage to my car, and he got the full insurance policy limits for my injuries. I'd recommend the Reeves Law Group to anyone who needs a personal injury attorney in San Marcos, Escondido, or San Diego.
I.S. via Avvo
Review Rating: 5 / 5



Date Published: 08-09-2021
How Do I Pursue Compensation as A Drunk Driving Accident Victim?
In a DUI offense, drunk driving accidents caused by an intoxicated driver are typically separated into civil and criminal case proceedings where one case may affect the other. The civil court system allows victims to recover damages for drunk driving injuries and other damages the drunk driver caused. Our personal injury attorneys can pursue a civil claim and obtain financial compensation for your injuries, medical expenses, lost wages because of missed work, reduced earning capacity, pain and suffering, physical therapy, hedonic damages, and property damages. In the case of a fatality, a wrongful death lawsuit may also be pursued by the family of the deceased.
If the driver who caused the car accident was legally intoxicated, we can also pursue punitive damages for the injured person. Punitive or exemplary damages can significantly increase the amount of compensation he or she receives. These types of damages are designed to financially punish and make an example of the drunk driver who caused the vehicle accident.
Before you file a drunk driving accident claim against the drunk driver's insurance company, it is advisable that you do not speak with an insurance adjuster without first consulting with one of our experienced attorneys in Los Angeles. Do not allow any conversation to be recorded. The goal of the insurance company is to pay you the lowest amount possible. Their representatives may encourage you to agree to a fast, cheap settlement offer.
Who Is Responsible for My Injuries in A Drunk Driving Accident?
Although a drunk driver who caused an auto accident may not always be liable for damages owed to the victim, the determining factor of fault in a personal injury lawsuit is to find out whether negligence on part of the impaired driver contributed to the accident.
A plaintiff can easily argue the defendant's judgment was compromised by intoxication and thus failed to exercise a duty of care where they are obligated to always operate a vehicle with reasonable care to avoid harming others and the property of others. The breaching of this duty of care makes up the principle of negligence per se that defines any act as negligent when it violates a law designed to protect the public.
There can also be certain circumstances in a drunk driving accident case where other parties may carry some responsibility or contributed in some way that led to the motor vehicle accident.
In most cases, the drunk driver's insurance company, if they have auto insurance, shares the responsibility of paying the compensatory damages to the accident victim. Certain cases may involve employer liability where the drunk driver's employer could be held responsible for negligence in an accident caused by the employee with a previous DUI offense.
There are also situations where social hosts or dram shops providing alcohol to persons under the legal drinking age can be held liable for any injuries suffered by the intoxicated underage drinker and anyone injured by them.
Seeking Justice for Drunk Driving Accident Victims in Los Angeles
Our personal injury law firm is dedicated to helping you recover damages for what you are owed after suffering from catastrophic injuries caused by a serious accident. We work to protect your rights and pursue your best interests. We relieve you of the burden of dealing with the insurance companies after an accident so that you can focus on healing from a catastrophic injury.
We are excellent negotiators with a proven track record who work to achieve a full and fair settlement for our clients whether they are drunk driving accident claims or wrongful death lawsuits. However, if the opposition is unwilling to be reasonable, our trial lawyer will litigate the matter in court to win justice for you.
Drunk Driving Injury Statistics
In 2005, alcohol-related accidents resulted in 1,719 deaths in California, according to the National Highway Traffic Safety Administration. A driver was legally intoxicated – with a blood-alcohol concentration level at or above .08 percent – in 1,250 of those cases. Year after year, the city of Los Angeles consistently tops the list of the most congested cities in the country. With the number of drivers on the road in Los Angeles County, vehicle crashes are inevitable and much more frequent.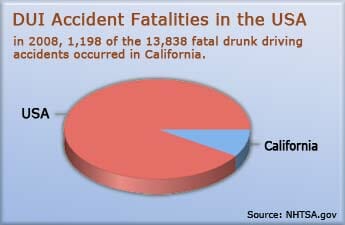 Drunk driving accidents have been on the rise for the past several years and studies have reported that young drivers between the ages of 21 and 34 are involved in more DUI accidents than any other age group. They often overestimate how inebriated they are when they decide to get behind the wheel that ultimately leads to devastating consequences.
Why Hire a Los Angeles Drunk Driving Accident Lawyer?
For experienced, effective legal representation, you can rely on the most successful drunk driving injury lawyers in Los Angeles County. If you or a loved one were seriously injured because of an accident with a drunk driver, contact our legal team or Call (213) 271-9318 for a free case review.
[Written by Derek Pakiz. Article updated on 2022-11-28]