California Swimming Pool Accident Lawyers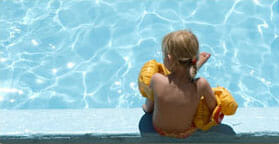 Swimming pool drownings and accidents are, tragically, a common occurrence.  What begins as a relaxing day in the swimming pool with friends and family can quickly turn into a tragedy.  In a few seconds a memorable outing can suddenly become a nightmare.  Contact our law offices today if you or a loved one has suffered a swimming pool accident or drowning.
Swimming Pool Drowning Statistics
The U.S. Consumer Product Safety Commission (CPSC) reports that approximately 500 children under 5 years of age drown in swimming pools each year.  Another 3,000 children are treated in hospital emergency rooms each year for injuries associated with near-drownings.  Swimming accidents cause the second most deaths in the United States for that age group (after auto accidents).  In California, swimming pool drowning surpasses all other causes of death to children ages 14 and under.  Of all preschoolers who are drowning victims, 70 percent are in the care of one or both parents at the time of drowning and 75 percent are missing from sight for five minutes or less.
Near-Drownings And Other Injuries
Near-drownings can result in devastating consequences for the victim.  For children that survive a near-drowning, 5 percent to 20 percent suffer severe and permanent neurological disabilities since brain damage (hypoxia) generally occurs after four minutes of submersion.  These life-altering injuries may require a variety of medical expenses, such as surgeries, medications, and visits to specialists.  In many cases the victim requires life-time medical care and assisted-living.  The same legal theories that apply to swimming pool drownings (premises liability, negligence, and products liability) also apply to near-drownings.  This type of personal injury case is often quite complex and may require the use of safety experts, accident re-constructionists, and medical experts.  It is therefore critical to retain an attorney experienced in swimming pool accidents.
Other common injuries associated with swimming pools are diving accidents, slip and falls, and injuries from pool chemicals.  All three of the legal theories for liability discussed below apply to these types of injuries, depending on the circumstances.
Diving accidents account for over ten percent of the approximately 10,000 spinal injuries suffered in the United States every year.  Nearly 13,000 people annually suffer diving related injuries serious enough to require hospitalization.  Defective products such as diving boards, lack of maintenance, negligent supervision, and lack of warning signs are common issues in determining liability.
Wet pool decks are slippery and many people are injured after a slip and fall in these areas.  Negligent supervision and the lack of warning signs are frequent liability issues.
Pool chemicals are necessary for clean pool water, but they are also hazardous if improperly used and can severely injure a swimmer.  Negligence of the pool owner or operator is the most common basis for liability.
Who Is Responsible For A Swimming Pool Drowning?
The question of liability in a swimming pool drowning depends upon the nature of the accident itself.  There are three legal theories that could be involved: 1) premises liability, 2) negligence, and 3) products liability.
1. Premises Liability
Premises liability basically says that a property owner is liable for injuries caused from a dangerous or hazardous condition on the property that the owner knew about or should have known about.  In the case of a swimming pool drowning, the property owner has a responsibility to take reasonable precautions to make sure that his or her pool is safe for users, or anyone else on the property.  In California, the landowner must take steps to protect anyone entering the property (even a trespasser).
The owner is negligent if he or she fails to take reasonable precautions to prevent a drowning.  Premises liability applies to:
Owners of private, residential swimming pools.
Owners of property with private or commercial pools used for the benefit of guests, members or tenants (such as motels, campgrounds, health clubs, or apartment complexes).
Owners of government property (discussed below), such as municipal swimming pools open to the community or school swimming pools.
Possessors or operators of the property. For example, someone who rents the property could also be liable for damages in a drowning where he or she failed to take reasonable precautions to protect guests from injury.
Premises liability is usually based upon inadequacies in the property owner's maintenance of the pool and surrounding area, or supervision of pool users.  Some of these inadequacies in a drowning case could include the following:
Lack of fencing. According to the CPSC, in-ground pools without complete fencing are 60 percent more likely to involve a swimming pool drowning than fenced pools.  A property owner may be liable after a swimming pool drowning if it can be shown that a reasonably prudent pool owner would have installed safety features such as fencing and locked gates.
Warning signs. A property owner may also be liable for a swimming pool drowning if he or she failed to post warning signs.  An owner must warn swimmers of possible dangers, such as posting signs indicating the depth of the water or a "swim at your own risk" sign in the absence of a lifeguard.  However, if a drowning occurs and warning signs are hidden or unreadable, the property owner may be liable.  Some dangers are "open and obvious" and a court may not find liability because a reasonable person would have common knowledge of the dangers of swimming without a lifeguard on duty or that shallow depths are not for diving.
Negligent supervision. The owner of a private residence can be liable for a drowning for failing to supervise guests, especially if they represented that they would be watching a child.  A private commercial landowner that has a pool open to the public as part of their business has a greater degree of duty to protect swimmers, and may face liability if no lifeguard is provided, or if warning signs are lacking, despite some dangers being open and obvious.  If a lifeguard is negligent in his or her supervision, the employer and/or property owner can be held liable for drownings.
Lack of maintenance. Property owners can be liable if they failed to maintain the pool or safety equipment in a reasonably safe condition.  For example a swimming pool that is only partially filled may give rise to liability if someone strikes their head on the bottom and is injured or drowns.  If water becomes murky and the bottom slippery from debris, a property owner could be liable for a drowning if someone under the water could not be seen, or if a victim could not get out of a pool due to slippery sides and bottom.
2. Negligence
Under the negligence basis for a drowning claim, a person is liable if they were negligent in causing the accident.  Negligence is the failure to do what a normal person would do under the circumstances.  As we have seen under premises liability, a property owner's negligence in failing to make the property safe establishes his or her liability.  Other parties may also be liable if their negligence leads to a drowning.  For example, if pool equipment was improperly installed, resulting in a drowning, there might be a cause of action in negligence against the installers.  An employer might be liable if a lifeguard is hired that was unqualified, or if the lifeguard's negligent supervision leads to a drowning.
Another form of negligence is called negligence per se, or strict liability.  Under this theory of recovery a party is liable if they have violated a law.  California and many of its cities and towns have passed laws or ordinances that impose restrictions and requirements on the construction and maintenance of residential swimming pools in order to prevent accidents.  These laws may require special pool covers, locked gates and fencing that completely surrounds a swimming pool.  Failure to follow such ordinances will result in the property owner's liability in the event of a death.
3. Products Liability
Products liability is a strict liability claim and is not dependent upon someone's negligence.  Under this basis for recovery a manufacturer or seller of a defective swimming pool or related equipment is responsible for releasing a defective product.  When a faulty swimming pool or equipment is the cause of a drowning, many people could be responsible:
The pool manufacturer (or the manufacturer of a component part),
The wholesaler,
The retail store that sold the pool to the customer, and
The assemblers or installers
Additionally, there are three types of defects:
Design defects that are present in the design of the product before it is made,
Manufacturing defects that occur in the manufacturing process, and
Marketing defects, such as inadequate safety warnings.
As an example, suppose a child comes in contact with an underwater pool drain and the suction from the pump is so strong that the child either cannot pull free, or is entrapped when a foot or hand becomes stuck in the drain grate.  If the child is injured or drowns, a product liability action could be filed against the pool manufacturer, who may be liable for a design defect.  Sometimes, the design of the entire pool itself may be faulty.  For example, a dangerous condition might exist where the shallow and deep areas are not clearly marked or if it is difficult to see where the pool is deep enough for diving.
Products used in or around the pool can also be defective and extremely dangerous.  Water slides could have weak spots from a manufacturing defect that results in falls.  Flotation devices for children could be defective because of a lack of adequate instructions for safe use, clearly indicating a marketing defect.
Governmental Entities
Drownings often occur on property owned by a federal, state, or local entity.  There are thousands of municipal pools in cities across the country, as well as pools in public schools and federal, state, and county parks and recreation centers.  The same legal theories of premises liability and negligence that apply to private property owners also apply to governmental entities.  Governments have the same duty to maintain their swimming pools in a safe condition to ensure that their employees are not careless in their maintenance of facilities and supervision of swimmers.  However different rules apply if you sue a governmental entity for liability after a drowning or accident.  There are very specific requirements for giving notice and filing a claim for a drowning.  If these rules are not followed you can automatically lose your right to receive compensation from the government.  The complexity of filing a claim against the government makes it imperative to get the assistance of an attorney experienced in these types of lawsuits.
What Should You Do After A Swimming Pool Drowning Or Accident?
Preserve Evidence.  If possible, write down the names, addresses and phone numbers of all potential witnesses.  Take photographs of the accident scene from different angles – the inside and the outside of the pool, the surrounding conditions, the signs, the fences and gates and the specific location where the accident occurred.  Take photographs of any related pool equipment that contributed (i.e., a faulty diving board, a defective drain grate, a ladder in disrepair, etc.).  Make sure that any defective products are not disposed of and are kept in a secure place.  If the product is in the possession of someone else, seek a lawyer's help (your lawyer may be able to file for a temporary restraining order and a preliminary injunction to avoid destruction of the product).
Document The Events And Your Injuries. As soon as it is practical after a swimming pool drowning, you should:

Document all events surrounding the accident
Obtain police reports concerning the incident and records from the hospital emergency room
Keep notes of all conversations with police, witnesses, emergency medical personnel, and hospital doctors.

In the case of a near-drowning you should:

Keep every record that relates to your doctor's appointments, medical treatment, prescriptions, lost work time, pain and suffering, restriction of activities and the expenses you've had because of the accident
Keep medical records, and write down notes about conversations that you've had with your doctors and the medical staff
If applicable, take photographs of any external injuries.
Contact An Experienced California Swimming Pool Accident Attorney. In the aftermath of a tragic accident, hiring an attorney may not seem like a top priority.  Obtaining medical attention for yourself or an injured loved one is your main concern.  However, complex legal and safety issues may be involved and it is essential to consult a California swimming pool drowning attorney as soon as you can.  In the event of a drowning, it is difficult for a grieving family to think about legal issues.  An experienced lawyer will be able to protect your legal rights during such a traumatic and emotional time
Do Not Talk To An Insurance Company Without Your Attorney Present. Soon after a drowning any negligent parties will have contacted their insurance company.  Every insurance company has a team of adjusters, investigators, and lawyers whose primary responsibility is to limit liability and minimize the pay out on a claim.  Often, victims or their families are bombarded with paperwork and questions.  In the case of a near-drowning, once you've agreed to settle your case, you cannot ask for additional compensation.  Many times a person or their loved one injured in a swimming pool accident will discover later that injuries were more extensive than first realized, which could mean more expenses than you first expected, like medical bills, and can extend the length of your disability.  Do not discuss the accident or your injuries without first consulting a swimming pool accident lawyer.
What Kind Of Compensation Can I Recover?
Damage awards in a swimming pool accident claim are intended to help restore the victim physically, emotionally, mentally, and financially.  In the case of a drowning, a claim for damages is filed by the surviving beneficiaries of the victim as a wrongful death action.
Selecting the Best Legal Help
Many issues will face a family who has lost a loved one in a swimming pool drowning.  Personal injury cases for near-drowning and wrongful death cases usually have complex legal issues that require top-notch legal representation.  You should consider the following factors when choosing your lawyer:
Look for an experienced, long-established lawyer. An attorney with a history of success in settlements and in court will know how to quickly and properly investigate your case.  This attorney will be able to collect evidence, obtain eyewitness testimony, file documents with the court and oversee your case from start to finish.
Select a well-financed firm. Swimming pool drowning cases require large resources, especially when a case goes to trial.  Proving liability usually requires hiring an expert to reconstruct the accident, obtaining in-depth witness interviews, and conducting extensive discovery to collect all necessary evidence.  The lawyer who represents you must have the financial resources to properly undertake all of these essential aspects of your case.
Pick a lawyer who is committed to your case. The best attorneys will be zealous advocates for your well-being.  They will keep you updated on the status of your case, will remain in constant contact, will act with professionalism and honesty, and will passionately advocate for you during every phase of your case.
After a swimming pool accident, you need to speak to a competent lawyer immediately in order to preserve your rights.  Make sure that you have all of the information you need in order to make the right choice for legal representation.
Contact Us
Our attorneys have won thousands of cases, including numerous swimming pool drowning cases, and have earned a reputation for professionalism and competence. We have the experience, skill, and resources to ensure that our clients will obtain optimum representation in their wrongful death or accident claim.
Call (213) 271-9318 or email us at Contact@RobertReevesLaw.com for a free and immediate case evaluation. For your convenience, we make home and hospital visits.